VO
3
What is Validated Ozone?
The engineers at Aquawing have created the patented VO3, a new device which validates ozone in the wash wheel. The VO3 Series by Aquawing for all Aquawing products validates that mandatory levels of ozone have been reached and maintained within the wash wheel. When reducing hot water usage, users need verification that a proper ozone concentration has been achieved and maintained to provide disinfection and superior wash results.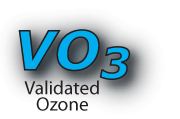 How it Works
An advanced microprocessor is mounted in the new system controller on each AF-Series ozone tower. This processor monitors the sensors mounted at each washer and when ideal ozone levels have been achieved for a set time the VO3 light will illuminate assuring users that the wash result will be disinfected with outstanding wash quality. The system is easily reset with the push of a button when the washer is reloaded and restarted. The new VO3 module can be mounted on the washer or in a central location within the wash room.
The New Aquawing AF-Series System Controller
New Digital Display: LED's will display board functions including all inputs and outputs, which will illuminate on the board as activated.
Additional sensor board power outputs provide cleaner DC power.
Dual air prep outputs: Two air prep units can be run on a single tower. They can run together or as separate units to deliver more amounts of oxygen to the ozone generators if required.
This system runs on 220 volts.
Additional cold contact washer inputs: For use with level switch and relay signals. Provides for cleaner and quicker install multiple interfacing.
Additional ambient air monitors: Should users want to have more than one ambient air quality monitor, the new system controller has the ability to handle multiple monitors from a variety of brands.
Control box cover Lights notify users of the status of the Aquawing AF-Series patented variable ozone.
Service light designed to remind users of recommended service appointments.
Audible signal available: If ambient monitors are measuring levels approaching OSHA recommendations, then an audible sound is available to notify laundry personnel.
Read brochure
Other Product Brochures
Product Links
Useful Links
Why Choose Aquawing?

All laundry ozone systems are not created equal. Aquawing stands apart as the premier system backed by years of research and development, independent testing and proven results.
Read more
Aquawing Ozone Injection Systems
(AWOIS, LLC)
45 Priscilla Lane | Auburn, NH 03032